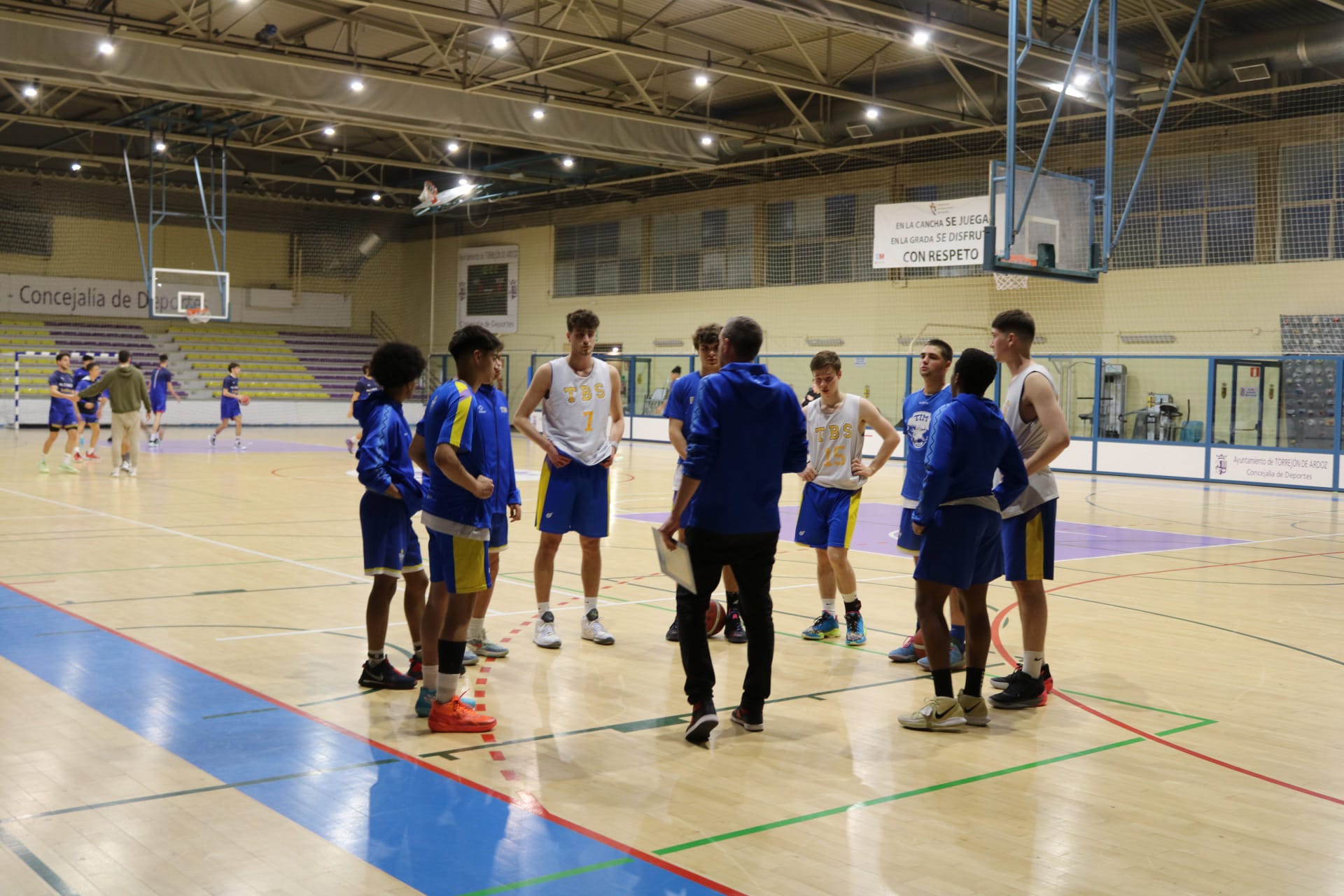 Junior A wins and fights their qualification in the group of death
Another weekend behind us is the different FBM categories in which we compete, and it is time to jump in #LaCronica of this weekend, the first of this month of March:
The girls of the Second Year Alevín played as visitors against Arroyomolinos C.B (46-46) in a game that ended with an equal score, and the next day, on March 5th, against Lope de Vega C.D, also away from home, the girls knew how to score and punch it in (19-43) from the beginning to win it and get the third win of the league phase. On March 11th, the category returns to action against Movistar Estudiantes "Fingal" at Javi Limones at 11:15 in the morning.
The Second Year Alevín returned to the court on March 4th at Javi Limones against C.B Perales (62-12) and was a steamroller. The boys have been very serious, and they continue to lead the league with a 13-1 record. On March 18th, the game will be played again at Javi Limones at 2:30 p.m., in a fun game against the third in the table, European Villanueva del Pardillo.
The First Year Infantil returned to the ring at the Nuria Fernández against Ciempobasket C.D.E and we have dispatched it (72-27) comfortably. This rival had not yet achieved victory (0-15) throughout the year and we gave them the fifteenth of the season. The best part? The next day we won again (41-47) on a visit against Aquila D.E. With these two victories we rally and ascend to sixth place in the table, with a 7-9 record. We will play again this March 18th at 5:30 p.m. at the Nuria Fernández against C.B Moratalaz A, a direct rival, whom we are chasing in the standings.
The Infantil Femenino also did the job correctly against Liceo Francés (40-23) at home. We are one win away from leveling our win-loss record. On March 11th at 9:30 AM at Javi Limones, we will play against Colegio Alameda de Osuna.
Our Yellow Preferred Children also came out with everything, and a great effort made them win (43-54) against C.B Raíces Móstoles. We took oxygen, and we went up to a mark of 5-10 in the year. On March 11th at 1:00 p.m. at Javi Limones we are going to match up against Maravillas, the difficult leader of the table that leads it with a 15-1 record.
The Preferred Children played a great game this past Saturday in Magariños against Movistar Estudiantes D (52-51) where debatable refereeing decisions on the end tipped the scales in favor of the locals. You can relive the best plays on the YouTube channel. Next one is not on March 18th, as we will not jump onto the court, since there will be a rest weekend.
Infantil A visited C.D Estudio (69-59) and fell short, despite the good game. mark of 2-6 in this phase, and on the next date we will play against C.B Las Rozas A, at 7:30 p.m. at Javi Limones this March 12th.
The Women Cadet ran out of gas against Olímpico 64 at Javi Limones (33-46), in a game where we expected more despite the fact that the rival came with a 13-3 record before this match. The next outing to the courts will be on March 11th at 4:00 p.m. for visitors against Recuerdo S.A.D 07.
The Preferential Cadet B was defeated at the Nuria Fernández, by the Agustiniano School (21-72). Complex season for the kids, but we send them our best vibes since the coming March 11th in the afternoon of visitors will go to play against European Villanueva del Pardillo B.
The Cadete A Preferente could not face C.B Villa de Leganés Grupo E.M A (42-87), being taken down. We are now with a record of 8-8 in the standings. We will play on the morning of March 11th against Santa María del Pilar A.
Our Cadet B had a couple of falls this weekend, sadly. First, as visitors against Arcángel Rafael this March 4th (79-56). Then, the next day at home we lost (70-86) against C.B Leganés. These losses drop us to a 4-4 record in the standings. We hope to reverse this slump on March 12th at 12:45 at Javi Limones when we face Halcones Arroyofresno.
Cadet A continues to win, this time against Baloncesto Fuenlabrada B, visiting (71-75). We are leaders with a 7-1 mark, galloping towards the playoffs in Gold. This March 12th we will play against C.B Majadahonda Naranja, at 11:30 at Javi Limones. We wait for you.
Junior B Preferente did not have a good day against Brains Lombrillo (46-64). The leader surpassed us and boy was the duel difficult, since they came with a 17-1 mark before this basketball game. Us? To fourth place, with a 13-6 mark, and this continues. On March 11th we are visiting Madrid Villa de Vallecas at night.
Junior A Preferente played very well against San José del Parque (78-49). We are leaders, with a 16-3 record and we continue to climb. This March 11th we are going to the road to Collado Villalba to play in the afternoon against C.B Villalba A.
The Junior Femenino went out against Corazonistas C.D on March 4th at Javi Limones (13-54) It was known that the match against the leaders was difficult, but we expected a better performance than this. On March 11th we are going against the Irish at 5:15 p.m. at Javi Limones.
Junior B found victory again (71-75) against C.B Majadahonda, last Sunday. Forced victory since we were talking about the last of the table. We level at 4-4 and we will look for the fifth win on March 12 at 1:30 p.m. at Javi Limones, against Fundal Alcobendas.
We had already been warning, competing in matches against "technically" superior rivals and falling in the final stages with Junior A. It was time to go to Torrelodones to play against BT, on Saturday night and we got the win again, sweeping the particular series (74 -76). A great game by Daniel Ríos as well as by Ibrahima Doumbia, the top scorer. It will be time to go to Fuenlabrada on March 12th, to try to sweep them also in the private series and hopefully ensure Playoffs berth.
The U-22 Bronze team had an afternoon out against (111-14) C.B Raíces Móstoles, completely taking them off the court, an overwhelming victory. C.B Isaac Newton awaits us as visitors this March 11th at night, and we seek to sneak into the podium of the standings with what may be the twelfth victory of the year.
Sub-22 Oro played poorly against a direct rival, Alcorcón Basket (52-74), who equal us in the standings now in second place with a 12-4 record. It will be time to seek revenge in Pozuelo de Alarcón this March 12 in the morning, against C.B Pozuelo.
The National Senior worries with another negative spiral, losing again (70-66) against Veritas Pozuelo. Then C.D.V equals us in the table with a 10-9 mark, and now more than ever this team has to find resilience to seek victory on March 11th in the south of the city, when at night we go to play against C.B Ciudad de Móstoles. Another game against an opponent with a positive record, although not impossible for our team, Come on!