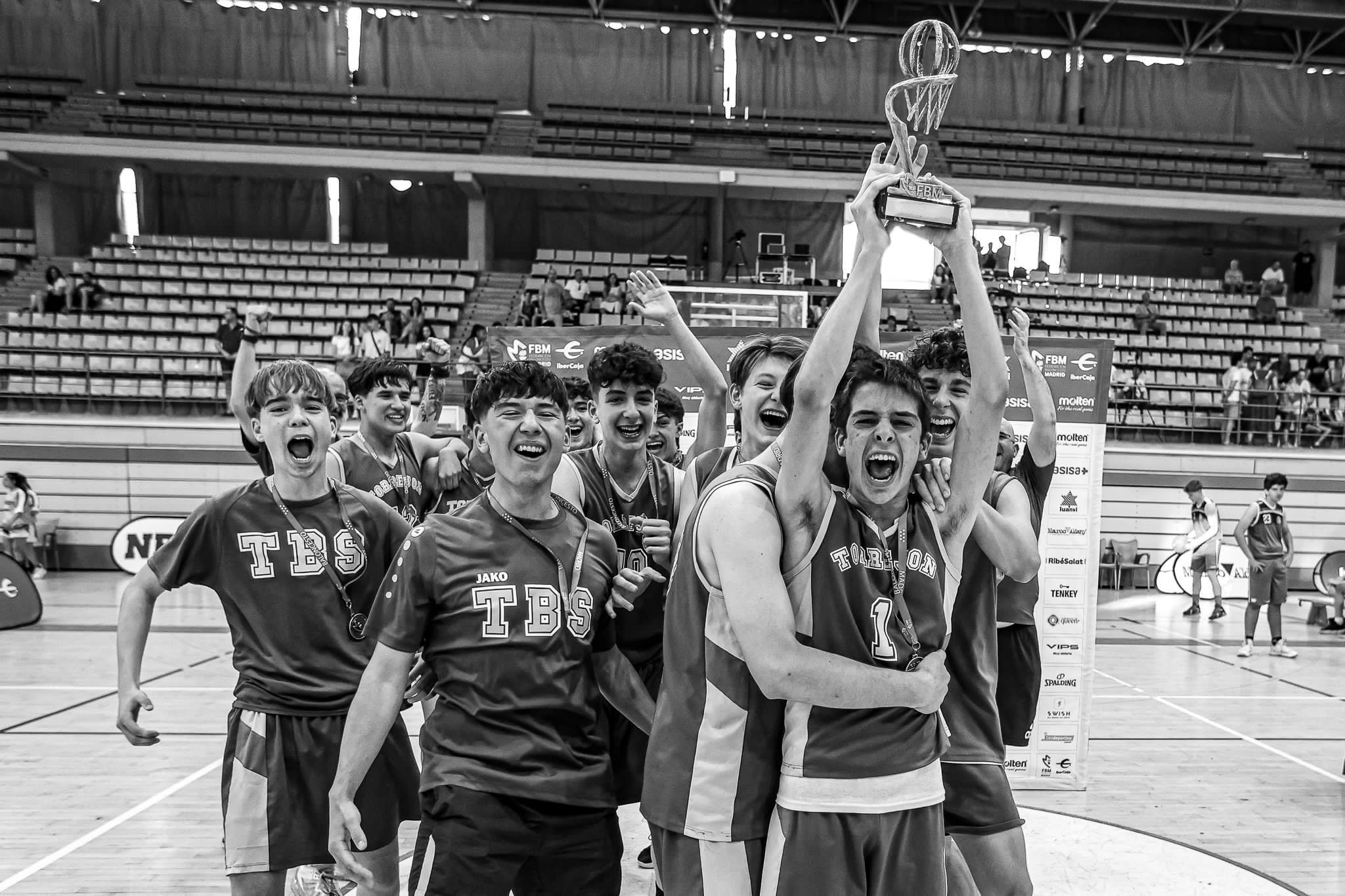 The Cadete is crowned in Leganés
*Preferred Cadet C Final, 2nd Division*
06/11/2022, Leganés, Europe Pavilion, 18:30.
The moment had arrived, the mother of all battles, the moment that had been fought for all season… The grand finale!
Very hot environment due to the weather, and the stands animated equally by both contenders. We faced Basket Veritas Pozuelo, a very physical opponent who came in high spirits after winning their last semifinal match with a difference of almost 50 points. Without a doubt, a rival who was going to make things difficult.
First quarter full of errors and inaccuracies on the part of both teams, undoubtedly the result of the nerves and anxiety generated by playing a final. TBS was able to manage these nerves, taking a slight lead at the end of this quarter, 14-9. The second quarter presented the first stone that TBS stumbled over, the defense of the rival team got their act together, and that caused inaccuracies in our boys, who facilitated easy baskets on the counterattack. At the end of the quarter, the nerves were tempered and Veritas advantage remained at 13-21, to reach the break with a 27-30 in favor of Veritas.
The third quarter began with the mission of overcoming the deficit, and it was achieved from the defense. Veritas continued to apply his strong defense, but TBS stood up to him in attack with determination and loading the rebound in attack. And in defense, closing his zone, giving only outside shooting options to Veritas, which proved to be his weak point. The quarter ended with a 14-11, which left the swords in full swing for the last quarter (41-41).
10-minute battle to decide the outcome of an entire season. The quarter began with a continuous exchange of baskets that helped maintain equality in the first 3 minutes of the quarter. A strong zone defense was made again with the arrival of aid to the outside shot, which managed to reduce Veritas offensive results. That and three consecutive triples from TBS managed to break up the game, which created long possessions to be able to run the clock and get the final victory. Score of 20-12 in the quarter and 61-53 in the final score.
Overwhelmed happiness after the end of the game and tears of joy in all the team members (players and coaches) who have worked hard all season to achieve this achievement.
Tomás Morales: "We started on September 1, without any expectations, without having as an objective what we have achieved... and here we are, as champions of the category."
Angel Paredero: "Every once in a while you come across a group of kids capable of facing challenges and overcoming them despite the difficulties, supporting each other. This is one of those groups of kids, and I could not be more proud of them."