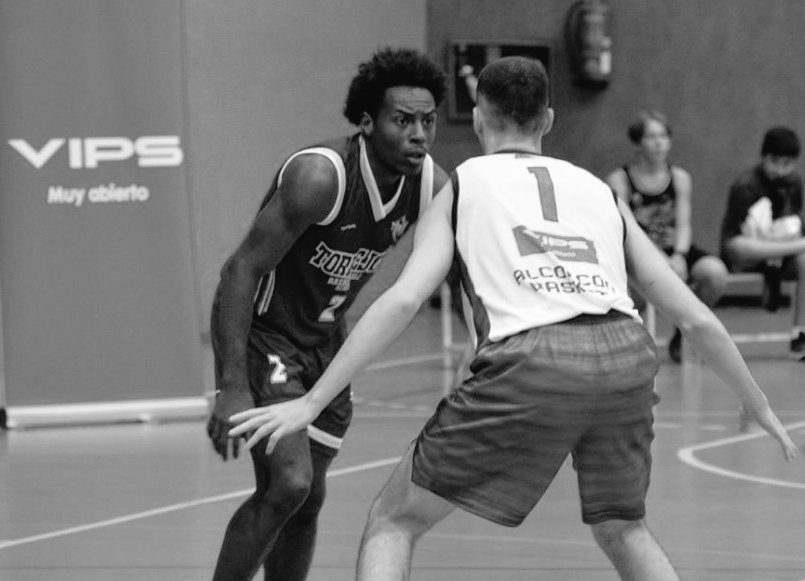 Daniel Almarante: "Learn to adapt and embrace the Spanish culture"
Daniel, welcome to the Interview of the Month section. It is our pleasure to have you here, and in Torrejón Basketball Academy. First of all, where does the story of Daniel with basketball begin at? Tell us more about your upbringing, family history and influences:
My story begins at the age of 5, it is the first time I remember having a basketball in my hands. My parents signed me up to our local Boys and Girls Club where I spent a lot of my childhood from the age of 6 to the age of 11. I grew up playing baseball and basketball so my time was split between both growing up. But there was something about basketball that I just loved. My mom used to play basketball for her high school team and she had a bunch of honors and awards around the house that I used to admire.
Unfortunately when I got to high school I was cut from the freshman team. That led to me focusing on other sports like American Football. So I did not play a single high school game. From the age of 14-18 I only ever play pick-up basketball.
I ended up going to UMass-Dartmouth for my freshman year of college. After that year I decided I wanted to start taking basketball serious, I was 19 years old. All summer I worked out and the following year I transferred to my local community college, I played for them for three seasons. The first year because of transfer rules I could only play half the season and the team went 5-20. The second season COVID cut the season short and we only played 7 games.
My third season, I helped lead the team to the regional championship but unfortunately we lost. After the season I received All-Conference Honors. Then Graham Wilson got in contact with me a couple months after for the opportunity to play in Torrejon. I am now playing for the Torrejon Basketball Academy.
How connected are you to your Dominican roots? Have you visited the island? How is your Spanish?
I would say I am pretty well connected to my Dominican roots. When I was 9 years old, my parents sent me to Dominican Republic to live there for a year. I did school there and spent time with my family there.
On a scale from 1-10 my Spanish is about a 7.5. When I am in the U.S the majority of the time I am speaking English, but my father does not speak English so usually with him I communicate in Spanish.
When do you realize that you may have a real future playing basketball? Any specific moment where everything "clicked" for you?
I realized that I had a future playing basketball this summer. It was the first time I started getting invited to a play against high level competition. In the beginning it was extremely difficult for me because I did not know if I belonged. But as the summer went on I started realizing I can play against these type of players. It was a great I opening experience.
Coming off high school, how was your recruitment like and how was your experience stateside in school overall?
I did not play basketball in high school so I had no recruitment. At the time I played American football. I did get recruited to play for football but decided I did not want to play in college.
Spain… Did you know anything before coming to this country? What did you expect, and how is the experience of living here so far?
Before coming to Spain I did not really know much about the country besides the fact that Luka Doncic played for Real Madrid. I did not come with a lot of expectations but living here has definitely gave me another perspective of life.
I enjoy being here, the people are extremely social and welcoming. It is a relaxed atmosphere compared to the United States where everyone seems to be in a rush. The architecture is amazing and the food is mixed from all over Latin America.
Basketball-wise, how does it stack up to your previous experiences? What is your analysis of the sport in Spain?
Talent wise compared to my previous experience it is similar but players in the U.S are a little more athletic.
The play style is what really separates the two. In the U.S players focus on creating things off the dribble and in Spain they focus on creating things without the ball. Back doors, back screens, cuts, off-ball movement they use all of it very often. The game is more methodical is Spain, you have to think a lot more and pay attention to read the defense.
How would you rate C.I.S and Torrejón as a club?
I would rate C.I.S and Torrejón a 8. The C.I.S does a good job making the students feel comfortable. They do not overload you with unnecessary work and help you develop your critical thinking and public speaking skills. As well as your team building skills, they have us work on a good amount of group projects, presentations, and create an interactive classroom for the students.
Torrejón Basketball Academy has good coaches that help you learn the game and adjust the Spain style of play. The web and social media pages are also well run, they make sure to keep up with the games and showcase the talent in the club.
Where do you see yourself playing in two to five years from now?
In 2 to 5 years I see myself playing pro in one of the higher levels in Spain. That is the goal that I work on every time I step on the court. I am trying to focus on getting better day by day, to be ready for when I get the opportunity.
For those who have not seen you play, how would you describe yourself on the court? Pros/cons? And, off the court? Hobbies beyond basketball?  
For those who have not seen me play, I would describe myself as a dog. I come in and bring a high level of intensity. The best attributes of my game are my play making and my defense. I am still working on being a better leader and controlling my emotions on the court. Off the court I am a pretty care free guy. On my free time I enjoy hanging out with my friends, reading, and eating different foods.
What are your academic interests and the major you would want to pursue?
As a student I am interested in finance, management, and sports business. Right now I am pursuing a Business Administration degree. In the future I would like to use it to open up my own business and maybe become a sports agent.
How is the dynamics within the team structure? How is the fact you are playing with other American players helped you? Who do you like talent-wise from our academy setup?
We have a very young team with the exception of 1-2 vets/returners, which means we have a lot of energy but make many mistakes as well. We are all in the learning process and since the beginning of the season we have gotten better at playing with each other. As a team we have good off the court relationships.
It is been nice having American players on the team because we use each other as a support system, giving each other advice and helping each other adapt. Talent-wise from the club my favorite players are Alonso Puiggros, Maksim Baranov, and Simeon Maynard.
You may be one of the trailblazers for the next wave of American recruits arriving to Torrejón de Ardoz in the near future. Any word of advice?
My advice for those who decide to come play for Torrejon is learn to adapt and embrace the Spanish culture.