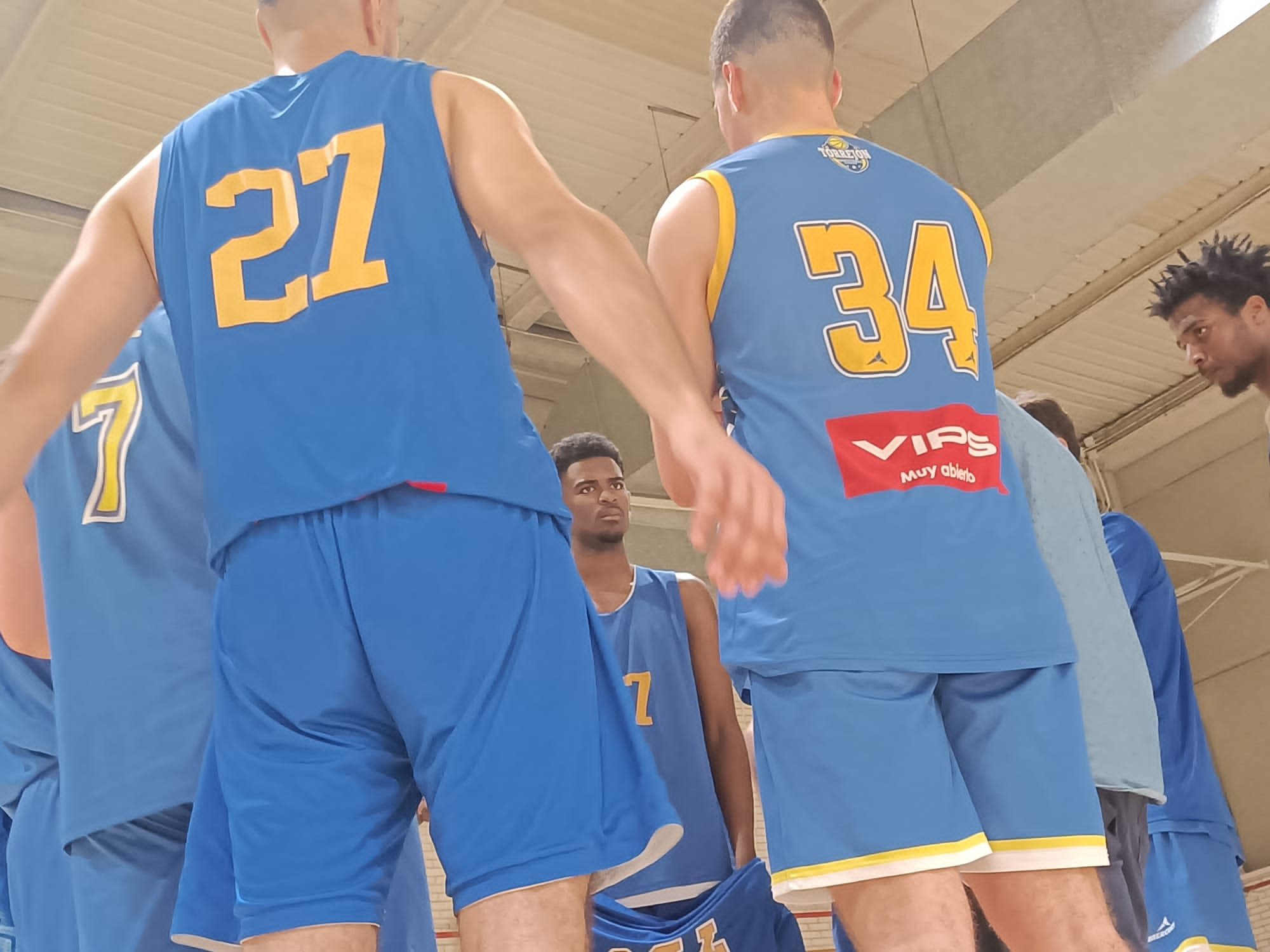 Insane: The Alevines win their games by fifty points
Yes, time for #LaCronica, the faithful friend that tells us how another weekend was in the different FBM categories in which we compete:
The girls of the Second Year Alevín played at home against Movistar Estudiantes "Fingal" at the Javi Limones (75-25) and struck the table with a punch. What a way to get the fourth win of the season, with a +50. This continues, we are on the rise. Next date at 11:00 on March 18th, against Pintobasket also at Javi Limones.
The Second Year Alevín unleashed the madness, also putting +50 to beat A.B.A Cabrini on March 12th (19-69). What great triumphs of the two teams, without a doubt. The kids are 13-1, at the top of the table. On March 18th, the game will be played again at Javi Limones at 2:30 p.m., in a fun game against the third in the table, European Villanueva del Pardillo.
The First Year Infantil returned to the court at the Nuria Fernández against Ciempobasket C.D.E and we have dispatched it (72-27) comfortably. This rival had not yet achieved victory (0-15) throughout the year and we gave them the fifteenth of the season. The best? The next day we won again (41-47) on a visit against Aquila D.E. With these two victories we ascend to sixth place in the table, with a 7-9 record. We will play again this March 18th at 5:30 p.m. at the Nuria Fernández against C.B Moratalaz A, a direct rival, whom we are chasing in the standings.
The Infantil Femenino could not extend the winning streak against Colegio Alameda de Osuna (26-43) losing at home. It is time to go as visitors this March 24th and 25th for a double header. First against Bulldogs Basketball C.D.E at night, and then we return to Nuria Fernández to play on Sunday at 5:15 p.m. against C.B Pozuelo. It is not easy because there are two rivals above us in the table, but it is not impossible.
Our Yellow Preferred Children had a difficult time against Maravillas (28-54), and gave in to the leader of the table that is now 16-1. The next date we will go to play against Severo Torrejón Preferred visitors, at 11:15 on March 18th.
The Preferred Children has March 18th date to jump to the court, since we had a rest day and we have rescheduling. We will play against Villa de Algete as visitors, at 9 AM.
Infantil A had a difficult time against C.B Las Rozas A (58-109) at Javi Limones this March 12. It is time to travel to Collado Villalba this March 19th, when in the afternoon we face C.B Villalba A, a direct rival of the group.
The Female Cadet had no luck on the track on March 11th against Recuerdo S.A.D 07 (61-32), falling. We are going at 12:45 on March 18th at Javi Limones to play against Villanueva de la Cañada, who has a 14-4 record. It is time to stand up and face a superior rival, so here we go!
Cadet B Preferente was defeated (29-11) by European Villanueva del Pardillo B. We return to the court this March 18th at 2:30 p.m., at Javi Limones against Parque Europa B.
The Cadete A Preferente played well and won against Santa María del Pilar A (37-55) as well as visitors. We ascend to a positive record of 9-8, and we are going against another direct rival in the table, Movistar Estudiantes B this March 18th at the Javi Limones at 9:15.
Our Cadet B returned to victory, against Halcones Arroyofresno (79-72) in a great game at home. There will be action during the week, when this Wednesday 15th we play against Uros de Rivas A there at 18:45.
Cadet A continues to win, this time rallying against C.B Majadahonda Naranja (102-57). It is always a pleasure when a category passes 100 points, what a dominant performance. The next game will be on the road, when on March 19th at noon it will be time to play against C.B Getafe. One more victory to ensure that they are mathematically the group leaders, without extenuating circumstances.
Junior B Preferente could not face Madrid Villa de Vallecas at night (64-46) last weekend. We will seek to get even against C.B Zona Press the coming March 18th of visitors in the afternoon.
Junior A Preferente played very well again against C.B Villalba A (56-57) and we knew how to put the bolt on the scoreboard to get a vital victory, away from home. The second in the table, and our escort, Baloncesto Aristos A awaits us this March 18th in the afternoon, there in their pavilion. The duel of the year. The two teams with a record of 17-3.
The Junior Women went out against the Irish at 5:15 p.m. at the Javi Limones (26-35). We will have to look for better sensations this March 18th, when at 7:00 p.m. we play as visitors against Colegio Estudiantes Las Tablas.
Junior B lacked that "extra" at Javi Limones, against Fundal Alcobendas (51-63). We will seek to recover the path of victory this March 19th in the south of Madrid, against Baloncesto Fuenlabrada B in the evening.
Our Junior A refuses to die, and set the tone again on March 12th in Fuenlabrada, sweeping the series against Baloncesto Fuenlabrada A (65-71), with several of their boys competing in the EBA League. We passed them in the table and climbed to a 4-5 record, in third place. A heart attack finale comes in the last Gold category game day, since we are going against a rival that we almost beat, barely with 10 seconds left for the end of the first game: Movistar Estudiantes A, on March 19th at Javi Limones at 5:30 p.m. The math is simple: if we win, we qualify.
The U-22 Bronze had another afternoon ride against (41-92) C.B Isaac Newton as visitors this March 11th at night. It was fulfilled and this means that on March 18 at 7:30 p.m. we will play at the Nuria Fernández against C.B Pozuelo, and by winning, we ensure that we will momentarily climb to the podium of the standings.
The U-22 Oro had revenge in Pozuelo de Alarcón this morning of March 12th, against C.B Pozuelo (62-98). The positive vibe was recovered, and we applaud the effort of Juan Sosa, the Paraguayan with 18 points and 4 triples, the highest since his arrival in Spain. The game of the day this March 19th, visiting in the afternoon, when in Madrid we play against Zentro Basket A, who we knew how to beat them in the first leg.
The Senior Nacional gave in again, against C.B Ciudad de Móstoles (80-76) playing well although it was not enough. We are going against C.B Leganés this March 18th at Javi Limones, at 7:30 p.m. We are in seventh place with a 10-10 mark and the rival comes with a 6-14 record, in the lower zone. We have to win, it is an obligation.