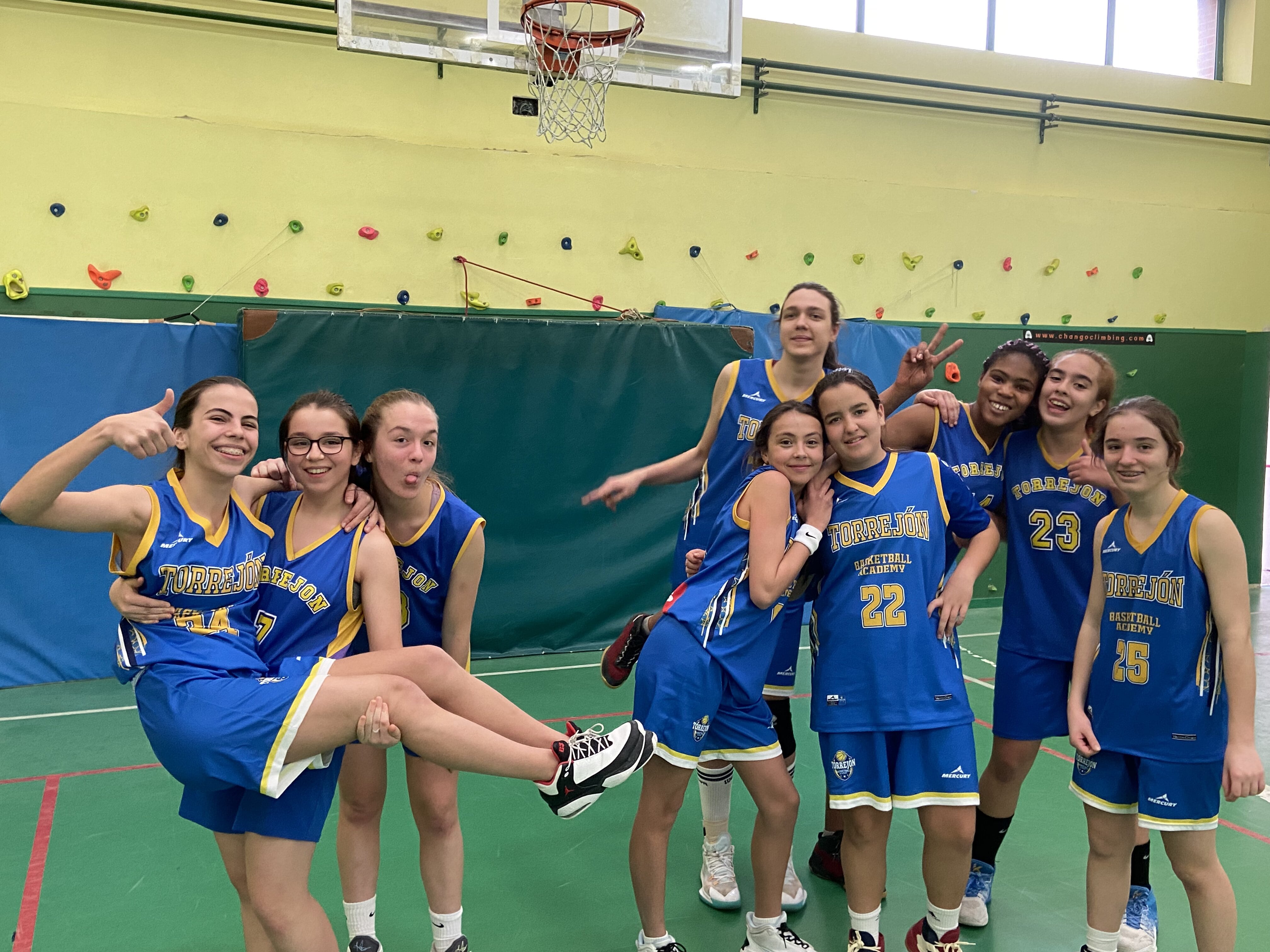 The Cadete Girls won and our Junior aim to do the same
Another weekend passed in the different FBM categories in which we compete, and it is time to delve into #LaCronica of this weekend of February to not only know how our teams have fared, but also to know the preview of the following weekend of the 25th and 26th of this month:
The girls of the Second Year Alevín competed well but the victory at the end (31-39) escaped against C.B Ciudad de Móstoles B. There will be a double game day on the next weekend, because on March 4th the girls will play as visitors against Arroyomolinos C.B at 1:00 p.m., and the next day, on March 5th, against Lope de Vega C.D also away from home at 11 AM.
The Alevín de Segundo did what they had to do this weekend, first winning (59-52) against Colmenar Viejo and tied the top of their group standings, with a 12-1 record. On Sunday they also won their other match (30-51) as visitors against C.B Ensanche de Vallecas. These are dominant kids, no doubt. Next game? March 4th at Javi Limones against C.B Perales, at 11:15 AM.
The Infantil Primer Año had two mishaps this past weekend, first (34-48) against C.B Leganés B at Javi Limones and the next day going to Parla to play against Parla Básquet (58-18), in a match where they did not do much. The offense did not work for us. The Nuria Fernández pavilion awaits the next day of action this March 4th at 2:00 p.m., when the category seeks to get out of the negative hole by playing against Ciempobasket C.D.E. This rival has not yet achieved victory (0-14) throughout the year.
The Infantil Femenino with a spectacular weekend, with two wins in a row: The first dub (47-43) against Lions Basket Arroyomolinos, a great match throughout, and on February 19th, they also won their game (27-39) against Vírgen de Atocha in their pavilion. Two direct rivals that are left behind, and allows us to rise to a 6-8 mark in the standings, in fifth place. On March 4th, the French Lyceum awaits us at 9:30 AM.
Our Yellow Preferred Infantil rested this weekend, but we will resume this on March 4th at a time yet to be defined, as visitors against C.B Raíces Móstoles.
The Infantil Preferente almost achieved the objective (50-54) against Colegio Los Sauces. On March 4th we hope to take it out on a direct rival, Movistar Estudiantes D, in their pavilion on Calle Serrano at 5:15 p.m.
Infantil A could not repeat the great game of the first leg, falling badly against (61-99) Zentro Basket A, at Javi Limones. This February 26th will be the next date, when as visitors we have to go to C.B Villa de Valdemoro at noon. Then, we will have to continue playing to look for the second victory of the phase because on March 5th, when the kids go on to visit C.D Estudio.
The Female Cadete stood up and grew big (38-41) against C.B Isaac Newton, in another great game by Fiorella Bustos. The player from Argentina was very good pulling the strings of the offense, while Astrid Korndorffer has stood out in her drives to the basket. In the painted area, our towers Victory Egharevba and Ksenia Kruk wreaked havoc with their height and wingspan to combine for 14 points, and all the best highlights from the game can be seen on our YouTube channel. On March 4th we will play against Olímpico 64 at Javi Limones at 1:00 p.m.
The Cadete B Preferente does not raise its head, and was the most recent victim of C.D Las Rozas D (92-12) in a match to be forgotten. We will play this coming March 4th at the Nuria Fernández at 12:00, against the Colegio Agustiniano.
The Cadete A Preferente could not face C.B Pozuelo A (55-41), and set our record at 8-6, counting this loss. It is time to prepare better since this March 4th at 5:15 p.m. at Nuria Fernández we will play against C.B Villa de Leganés Grupo E.M A.
Our Cadete B (78-63) returned to the triumphant path against C.B Pozuelo A. We rose to a 4-2 record, and we will go as visitors against Arcángel Rafael this March 4th. Cadete A saw their winning streak stopped when they faced C.B Tres Cantos A (77-81) on Sunday, losing at the Limones. First loss of this phase, although we are still leaders with a 5-1 record. Real Canoe B will be the next rival, during the week on February 21st at 8:15 p.m. in the Agustinian Pavilion.
Junior B Preferente played well and won in a difficult place (46-49) against San Agustín del Guadalix. Direct rival, and we climbed to third place in the table with a 13-5 record, a shot from second place even by just one game difference. On March 4th at the Nuria Fernández at 5:45 p.m. we will play Brains Lombrillo.
The Junior A Preferente was huge in their visit to C.B San Fernando (58-61), winning a key game. On March 4th at Javi Limones we will play against San José del Parque at 7:30 p.m. We are leaders, with a 15-3 record and we continue to go all out since we have beaten third place, a rival that wanted to knock down our momentum.
The Junior Women will have a postponed duel this upcoming Friday, on February 24th, against the Carabanchel District at Javi Limones, at 6:00 p.m. The next game will be against Corazonistas C.D on March 4th at Javi Limones. We are third in the standings and we want the lead.
Junior B came out ahead again and beat A.D.C Boadilla (57-60) this past February 19th, to tie with this same team for second place in the standings in this phase. On February 26th will be the key duel, against the leader, the Olympic District. We will play at 12:45 at Javi Limones.
The Junior A visit to Valdebebas (116-46) against Real Madrid A, the only undefeated player, was not easy, also with their full squad playing simultaneously in the EBA League. We had the casualties of Amadou Maiga, Daniel Ríos, Diosdado Kronhert, three starters since they had been promoted with the National Senior, which played at the same time against the French Lyceum, so we suffered the power of the white team. The local Izan Moya, Alonso Puiggros and Osvaldo Deocares did great on offense. We drop to a 2-4 mark, and this Friday, February 24th, another tough rival will play, Zentro Basket A at Javi Limones at 7:45 p.m.
The U-22 Bronze has won the match against Buen Consejo Blanco (73-62). There are now nine victories, and we rise to fourth place in the standings. On February 25th we will play against C.D Newman, at 1:00 p.m. in his pavilion.
Sub-22 Oro took the defeat of the last date, and put energy and momentum against C.B Revolution (75-65) to win this past Sunday. We continue second, following Liceo Francés in the table, with a record of 11-3. We are going this March 26 at 5:30 p.m. against C.B Las Rozas B, over there in their court.
The Senior Nacional team has made three very good quarters, and a very bad final quarter (84-66) against Liceo Francés in Madrid, to fall badly in this VIPS League. There is no rest or easy rivals, and it is time to seek revenge against an old acquaintance who already knew how to win in the first leg, Olympic District, the second in the table. We will play on February 25th at 7:30 p.m. at Javi Limones.