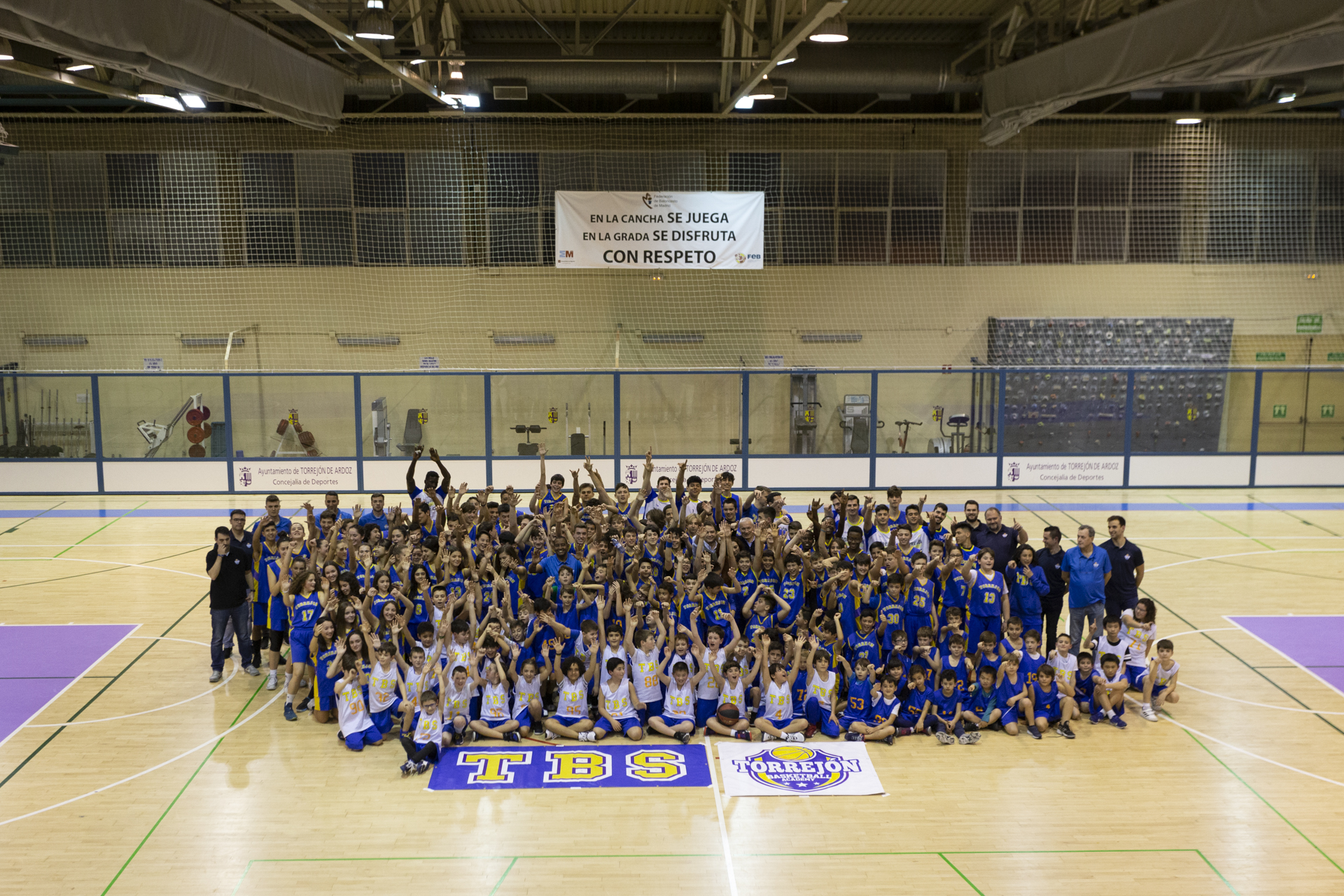 Beware of these Torrejoneros
Do not be scared by the title eh, we mean it in a good way. How so? Because we closed 2022 in a big way with some very important victories and we will tell you everything in our usual friend of every week, #LaCrónica, the reliable summary of how the past weekend has been for the Torrejón Basketball Academy in the different FBM categories in which we compete:
Our girls from the Girls Second Year Alevín closed the year 2022 with a 1-4 record in the standings at the moment. We will look to cut short the path of two straight defeats this January 14 against visiting Pintobasket and then, next January 22 against Movistar Estudiantes "Fingal" in their pavilion.
The Second-year Alevín is going at it at a frenetic pace, again unstoppable and with another great victory on their books, against Cabrini A.P.A (60-10). Undefeated leaders, to sign off a dream 2022 year with this 6-0 record. The next key date is in January 2023, on the 14th at a time to be defined, we will play against European Villanueva del Pardillo visiting their town.
The Infantil First Year continues on a positive streak, beating Aquila D.E (54-48) this time with some nerves on December 17th. Good way to rise in the standings, placing us with 4-3 in fifth position. On January 14th we will return, to play against C.B Moratalaz A as a visitor.
Double action and we ran aground with our boots on, with the Infantil Femenino, losing to Liceo Francés (36-35) in a game not suitable for the faint of heart that we thought we would take with us. And, defeat against Colegio Alameda de Osuna (53-32) of visitors. The brave girls now fall to a 3-4 mark, in fifth position on the FBM table in their competition. Bulldogs Basketball C.D.E awaits us on January 14, a direct rival on the table.
The Infantil Preferente Amarillo fell very narrowly against Baloncesto Atocha (34-32), at 5:30 p.m. on December 18th. Sensations that surprised us against a rival better placed than us in the standings. We set a 2-5 record, and the next game will be in Madrid, when we visit Colegio Joyfe on January 14.
The Infantil Preferente has proved to be correct and seasoned with a tight finish to beat Colegio Miramadrid, in Paracuellos de Jarama (43-45). Excellent collective work, which makes us play a 4-4 record, and we will face C.B Arganda on January 14th.
Infantil A went winless in the first phase of the FBM Special, after losing to C.B Tres Cantos (68-88) on December 18th. Now, this is not a measure of the improvements that the boys had in each game, competing and almost defeating rivals of greater size and physical development. We descend from Gold to Silver for the second phase, but with the conviction that this group is ready to fight on. On January 15th in Madrid, we are going to Antonio Díaz Miguel to play against Zentro Basket A.
It has not been the day of the Cadete Femenino (57-20), with a setback against the French Lyceum, in Arturo Soria, on December 17. We occupy the basement of the standings with a record of 0-9, in a season of learning for the girls. Matchday 10 will be at Javi Limones, against C.B Getafe on January 14.
Cadete B Preferente had a hard time getting into rhythm and fell to Parque Europa B (78-23). Difficult season with 0-8 record, and we expect 2023 to be better. We leave with good feelings because the classic is coming on January 14th, against Parque Cataluña Torrejón Negro.
The Cadete A Preferente left an important challenge with two games almost in a row postponed to close the year: the one on December 17, against C.B Pizarro Campus Ávila visiting, and then the one on December 19 also visiting Movistar Estudiantes B. Our category goes with a 4-3 mark in ninth place in the standings.
Cadete B did not make it last December 18, visiting C.B Majadahonda Naranja (54-42). Season of more lows than highs, with a 1-9 record, and we will play in Bronze from 2023, when we go to face C.B Pozuelo on January 15.
Cadete A had a spectacular fourth quarter and overall a great way of finishing 2022 with a great game and huge win (71-76) visiting Madrid and beating Zentro Basket, the second in the standings. We go on with a 3-7 mark in the Gold category, and we will now play Silver from January 15 against C.B Tres Cantos A, visiting their stadium.
Junior B Preferred linked two consecutive defeats after losing (64-50) against Baloncesto La Salle 86 A visitors. We closed the year in fourth position with a 7-4 record. For January 14th, the boys will be ready to face C.B Navalcarnero B.
Junior A Preferente has no rivals. Against the second in the table, Zentro Basket B in Madrid, we also knew how to win and cement our 10-1 mark. Undisputed leaders, and we go on January 14th vs Pilaristas to continue our hot streak.
The Junior Femenino won the caste (49-27) against Colegio Estudiantes Las Tablas, at the Nuria Fernández. Good moment with the 5-2 in the table, the girls located in the fourth position. The next challenge will be on January 14th against the Carabanchel District.
Junior B winning again (111-41) and wow in what way, against Liceo Francés on December 18th, in Madrid. We have earned promotion to Silver, being leaders without any rivals that can challenge us, with this 10-0 record. We will be going against A.D.C Boadilla on January 15th, at Javi Limones.
Come on! Junior A gave the blow of the weekend against Baloncesto Torrelodones A, at Javi Limones (71-64), the second in the table. Good game by Alonso Puiggros, setting the pace of our offense. We qualified being third in the table and we are still in Gold, and on January 15th there will be a great duel against Real Madrid A, at the Javi Limones.
The Under-22 Bronze was not enough for them against Brains Lombrillo on December 17th at home (59-64), although we are still fourth in the standings with a 5-3 mark. Basketball La Salle 86 is the next opponent, on January 1th4 at 5:00 p.m.
Sub-22 Oro easily surpassed Montessori (99-56) almost reaching one hundred points at Javi Limones on December 18th at 5:45 p.m. We are still second in the table, with 6-2, escorting the undefeated French Lyceum. The best? We open 2023 against them, in Madrid, to try to snatch that record from them on January 15th.
They have put the brake on the National Senior, nothing more and nothing less than the leader Urban Poke Tres Cantos, at Javi Limones (67-83). We are in a multiple tie for third place in the table, with a 7-4 record. We are going against a direct rival to open the new year, Alcorcón Basket, and in Limones also this January 14th. Happy Holidays! See you soon here... Somos Torrejón.