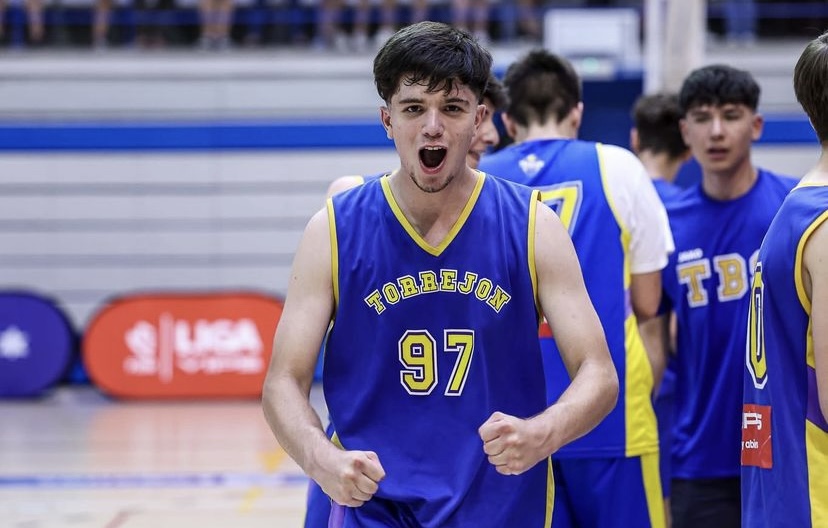 Osvaldo Deocares: "We were just short of making it among the 4 best clubs in Madrid"
Osvaldo, greetings. You have been chosen for the interview of the month section, for our website, with the idea of ​​knowing a little more about yourself on and off the court.
Hello, good, thank you very much.
Where does Osvaldo Deocares history with basketball begin? Tell us details of your childhood in Chile, and also where you are from and in the region in which you develop.
I started at 11 years old, back in 2017, at CDV Valdivia, in Chile. It is the club in which I continue training on vacation when I return. In Valdivia, basketball is played a lot, and there are two very big clubs in the city and several in the Los Ríos region.
Have you been a Torrejón basketball player for how long? For those who do not know you or have not seen you play on court, how would you describe yourself as a player? Shortcomings, virtues?
My start at Torrejón Basketball Academy was in 2021, almost at the end of the season. I am a player who really likes to play as a team, and try to get all of us to give our 100% in the match. One of the things that I like the most about my game is my communication and vision on the court, and perhaps one of my shortcomings would be the physique, which I am working on.
What do you do off the courts and what hobbies do you have?
I really like being with my friends, with whom I live or with those from the club. I am very social and my free time is always with colleagues doing anything for fun.
What does Torrejón, the city, and the club mean to you?
Torrejón de Ardoz has given me a lot and I am very grateful, it is an honor to represent this club as well. They have always helped me in everything I need. The people and the city of Torrejón are very beautiful, very happy and friendly people, and a very beautiful city in all areas.
Do you have future goals in basketball?
Since basketball was something serious for me, I have always wanted to be linked to the discipline, be it a coach, player or physiotherapist of a club. But the main thing for me now is to continue and become a professional basketball player.
You have been one of the figures of the cadete U-16; How do you analyze this season that happened and what do you think is needed to settle in this promotion to junior A?
It was a very good season and full of moments that I will never forget, we did very well and I am very happy with the performance we had throughout the season. We were just short of making it among the 4 best clubs in Madrid.
I like how it is at the Junior A, it is a stronger group with more experience. I hope to be able to contribute everything I can and together with my colleagues; go further than the past seasons, I was with them the first season and a group in which I feel I fit very well.
Chile is an emerging nation in Latin America at the FIBA ​​level, with important results and prospects who are already stars in the senior national team 🇨🇱 names like Ignacio Arroyo, Felipe Haase or Nicolás Carvacho, as well as many others. How do you analyze the work of the federation in recent years? Who is your example to follow in the senior team?
You should also be one of the important ones for next year in the South American U-17 FIBA, of your year the 2006-born class...
Chile is doing a very good job, they are scouting and choosing good lads to the FIBA ​​South Americans and each time, little by little, the results are improving, players like the one you named are playing abroad and when they play with the national team they make it noticeable. Examples? I have always admired Sebastián Suárez, and players like Ignacio Arroyo and Sebastián Herrera as well.
I hope to be in that team next year, along with all my 2006 teammates, in a good group, and I would like and it would be an honor to represent the Chilean jersey at an international level.
Academically where do you look; what do you want to study at university and why?
Physiotherapy. I have always had that pleasure, I would also like to be a physical education professional and teach. Sport is something that moves a lot of people and I want to continue to be linked to sport.
Advice to the new generations of Torrejón players:
Always follow and obey the coaches, since they are the ones who help you improve at all times. Torrejón is a very nice place to progress and learn basketball 💙💛