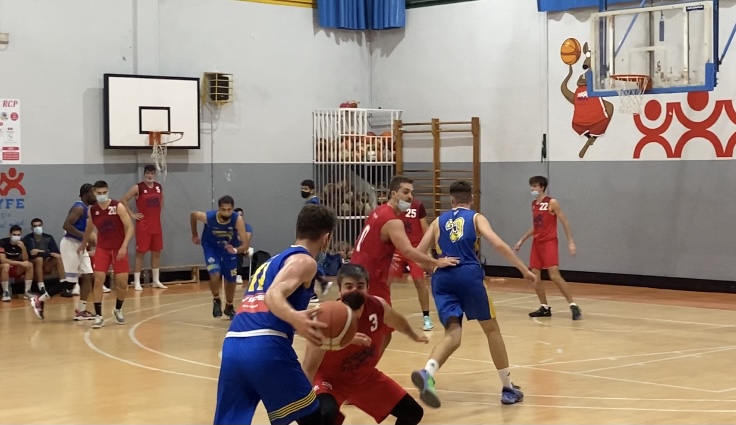 Revenge was served for our Senior on their away game with Joyfe
After having yielded in the first game between the two teams, our Senior Nacional Torrejón Basketball knew how to close this one and win as the away team in Madrid against ADC Joyfe. And what a blow it has been, with Iván Sánchez putting on the superhero cape in the aftermath of the game.
The match began with the locals becoming strong, and with the blunder of those in blue and yellow in attack. Important moments for our experienced forward Carlos Abentin, back in the category after his previous experience in the EBA League, and foreign American debutant Kevin Idowu Ogunjimi, who with much self-confidence kept the actions even in the first two quarters despite the bad start.
In the second half, there was an exchange of the lead on the scoreboard and the defenses were hesitant. The accuracy of our standout point guard Pau Monroig - who would finish with 16 points - with several three-pointers, was key to the Torrejoneros aspirations in the third quarter. For the last period, an imperial quarter from Iván Sánchez brought out the best of us, and with baskets of all colors including a three point shot from almost 10 meters put ice to the game, which in the end would end with a score of 83-87. Carlos Abentín and Ivan Sánchez were the top scorers with 22 points each, and after Monroig 16, Kevin Idowu scored 12 to his credit.
Data sheet
ADC Joyfe: Alberto López (24), Alejandro Rodríguez (-), Daniel Torrijos (3), Juan José Núñez (-), Rafael Alonso (2), Adrián Ruiz (9), Alejandro Moreno (2), Patrick Varbanov (- ), Ángel Olmedo (23), Enrique Ortiz (9), Alexander Puebla (9), Adrián Muñoz (2).
Basket Torrejón: Kevin Ogunjimi (12), Carlos Abentin (22), Juan Manuel Mateo (2), Alejandro Robles (-), Roberto Donaire (7), Iván Sánchez (22), Javier Sánchez (-), Mario Pérez (6 ), Rares-Andrei Ghita (-), Pau Monroig (16), Salif Diarra (-), Vito Zaccaria (-).