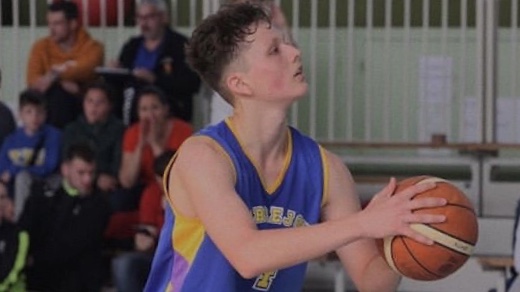 Ignacio Correa: "My goal is to play in the ACB"
How were Ignacio Correa beginnings with basketball and at what age? What aspects have you liked about this sport, being Chile a country where football predominates?
My beginnings came at age 7 when I wanted to enter basketball at my school, San Juan Evangelista in Santiago, because my uncle played it. As I was the tallest of my course, one day I was invited to train by the schools coach, where I said to the shot "yes".
Something that I always liked about this sport in regards to football is that it is more dynamic, it plays attack and defense. I also like that there are many points per game, that seemed entertaining.
For those who do not know you, what position do you play and how tall are you? What do you consider your strengths and weaknesses are on the court?
I am a versatile player, I can play as a perimeter player as a frontcourt position. I have a good driving skill which I use to generate for my teammates. I can contribute in the different aspects of the game, the assists, rebounds, defensive aids, recoveries and in the tuning of the collective game.
I measure six foot five, and nowadays I am working on my shooting mechanics, which I feel I have to consolidate, and my technique on defense, where I know that I can do even better.
Being such a young prospect, you have already reached an important tour as a player, Ignacio. How was the experience of representing your country in an FIBA ​​tournament?
Representing my country has been one of the best things I have experienced thanks to practicing this sport, since defending my country is an important moment of pride and recognition. I have been able to have an important experience and measure myself against the best in South America.
Your arrival has become the academy fashionable in Chile - laughs -. Do you already speak Chilean with the other teammates? What is it like to live with so many compatriots and players that you have known for years of your country of origin?
It is entertaining and more normal to be able to speak the way you speak in your country, and there are already several that repeat more than one word from listening our accent so much - laughs -.
Today it is seen on television and it is read in the news that Chile does not go through a good social moment. Being afar, how do you analyze this situation? What does your family say and how do they go through it?
The situation is very complex in Chile, since people got tired of the government abuses and of not being able to sustain their lives. While the minimum wage in Spain is almost 1,000 euros, in Chile it is only 420 euros approximately. Living expenses are practically the same value as here, but the difference in income means that people cannot live.
This caused a social uprising throughout the country where people began to march and the country was paralyzed for two weeks suffering millionaire losses and structural damage due to acts of a few vandals, which directly affects the quality of life of people and in the case of many, in the loss of their jobs. My family comments that the situation is critical and that it is unfortunately for long, however, they are well and protected from all conflicts but not oblivious to the cause.
Back to basketball ... Short and long term goals?
My short-term goals are to work mentally and physically to be able to achieve my long-term goals, which is to play as a professional in the ACB.
Apart from the Ignacio that we can see on the court, how about his personality outside of it? What would you like to study in college, aspirations?
Off the track I consider myself someone cheerful, a good person, focused on what he wants to achieve and how he will do it.